I have placed the sock far far away because somehow it got a hole and in the process of my tinking it back (since I did NOT drop a stitch), I managed to--you guessed it--drop a stitch.
Instead, I have picked up a prayer shawl made out of Lion Brand Homespun that I mis-followed the directions to, making it ribbed. Most shawls aren't ribbed, but this is me giving a flying hoot. (It is not fun to frog a foot of knitted Homespun.)
I don't know if the colorway I have is
supposed
to make rainbow stripes, but mine is. I picked an arbitrary set of needles and an arbitrary cast on and yet it's making rainbow stripes. Go figure. Of course, as soon as I add the next skein of Homespun, the rainbow stribes will fail me and everyone will laugh at my sucky joining.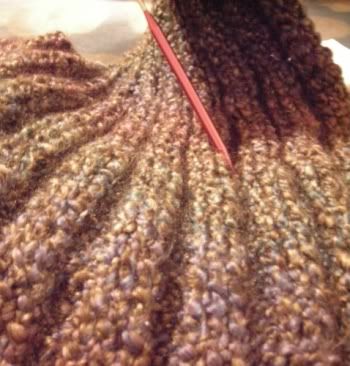 I may or may not be overanalyzing this.