Hey look, I'm alive! I know the two of you who stumbled on this blog accidentally probably didn't even miss me. I've been pretty busy for the past few months -- receiving both a B.A. and B.F.A. from my college, moving, the works.
Unfortunately, the week after I graduated my older brother died. I've been in a funk for the past month, but lately I've been opening the windows, finding the camera cord, and trying to get my life started again. The day my brother died, I received the most wonderful birthday package from a college friend. She had no way of knowing what was going to happen, or how much her package would mean to me, but I was so appreciative.
She sent me the most gorgeous wool yarn ever. I have no idea what to do with it. I don't want to ruin it.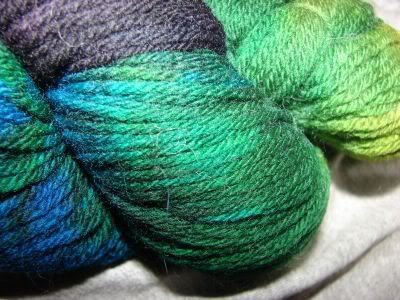 It is
Storm Moon Knits
Celestial Worsted.
She also sent me two skeins of
Plymouth Yarn Baby Alpaca Grande
. I'm thinking of making an amazing, fluffy hat. (One skein is blue and one is white.)
For no good reason, last week I dug out one of the crochet hooks I happened to have but had no idea how to use, and learned how to make a foundation chain and the chain that goes on top of that. Then I was lost. Because it had given me a challenge, I went on amazon.com and ordered Kutz's
Learn to Crochet
book. It arrived today. While I haven't opened the accompanying items or tried anything in the book yet, I am pleased. Maaaaaaaaybe one of the reasons I ordered it in the first place is because it came with a tapestry needle, and I can't find one of the
four
I know I own.
Just maybe.