Once upon a really long time ago (hey, I'm young, four years is long) I learned how to knit, grabbed a pair of needles, grabbed a pattern, grabbed a yarn and made a hat that fit. Don't ask me how. I think the fiber arts gods were on vacation that week. Other than an utterly failed attempt at making another one for my sister, I haven't made a hat or hat-like object since, despite having
Calorimetry
queued for ages. (Holy gods, is that word impossible to spell.) What can I say, I'm afraid of doing something I haven't done before, no matter how cool the outcome.
On the plus side, I found my Klutz book yesterday. It was on the bookshelf underneath a shower caddy. Don't ask, I don't get it either. I finished the hat pattern in it in a few hours (less than five). I love it. I love that it was easy but looks cute. I love the yarn and wish I knew more about it, other than that it's 100% viscose, made in China, and 2.5 oz/71 g. (It came with the book.) No yardage or anything, but I was crocheting on gauge (yes, I swatched it out!) and the book says it uses 115 yards of DK yarn, so that's definitely a one skein wonder.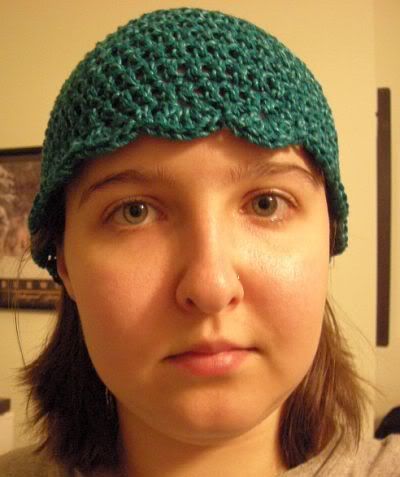 Ignore the dumb look on my face, by the way. I wear glasses, but I took them off in case it made for a better picture, and trying to take a picture of yourself by looking at the reflection of the viewfinder in your mirror is hard enough when you're not horribly near-sighted.
It's a little long on me, but I don't care because it covers my ears better and I think I look cute. (Plus, there is no way I'm going back and frogging any of it. My ends are woven in.
Do you know how rare that is?
) In the meantime, I'm looking for hat-appropriate DK yarns so I can make one for my sister and cousin. I'm open to all suggestions, but I know my sis doesn't do well with wool or angora. Ideally, I could do it in a worsted weight, but ... I'm scared of trying to figure that out. Do I get gauge and hope the bigger yarn doesn't make it too much bigger? I know people have made this hat with like, Simply Soft, so maybe I'll suck it up and ask them. I would gladly own ten of these hats.
Also, if you're here from Post Mortem, hi! I've got an ego-boost now, even though I think we may have turned into those people who read each other's blogs to boost reading stats. Not like I care.