Alas! So we finally pretty much completely unpacked me, which of course means that the one thing missing is one of my books! My Klutz Learn to Crochet book, actually, which is a little annoying because I really wanted to make the hat in it. It's probably packed in one of the boxes perilously perched in the closet now. Sigh.
Yes, I know that crocheted hats aren't exactly hard to make (or even design), but I liked that hat! Thankfully, I've found what I've decided will be a fair substitute: a hat by Kathy North (http://www.designsbykn.com/), who has made some lovely things for charity that she's put up on the Lion Brand group on Rav. She has some great free patterns up there for both knitting and crochet. There's also a really neat earwarmer that uses the PRETTIEST yarn, Caron Glimmer, which is apparently discontinued. Boo. I love blue with silver sparklies.
In other news, I have finished the catghans, all three of them. I am going to show you pictures of them. However, it is not my fault that the cats take up the majority of the space in my pictures! Look closely. You will see yarn.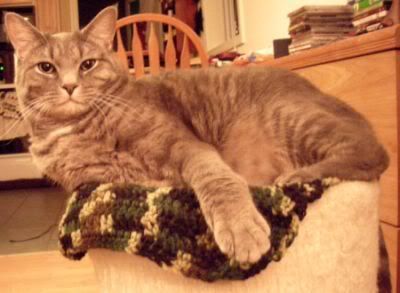 Dorian photographs so well. He's such a haughty boy.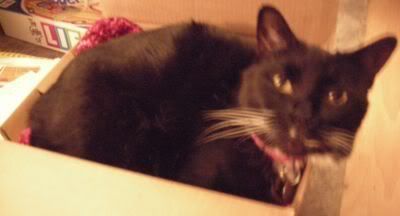 Phoebe is cuter than that, but she saw my hand and got excited that I was going to pet her. She's also sleeping in baby kitten's box. Oops.
I've also decided that I need to get rid of some of my stash. I inherited a lot of yarn without ballbands from the person that I bought a bunch of stuff off of freshman year, and while some has been used, most of it hasn't. And I keep buying more variegated acrylic (seriously, shut up, I like it) that I just haven't used because I saw it as "practice yarn". Well, no more. I am going to use it up in
The World's Ugliest Stashbusting Afghan
. I'm just throwing on a ball, crocheting until I'm done with it, then throwing on another one. No carefully matching colors, no striping, none of that crap. This thing will be hideous, super-functional, and
amazing
. The hope is that it will be queen-bed sized, though if I have that much acrylic, I might be slightly afraid. So far I have one row done. One. This is gonna take forever.
And then when I use up all the fun yarn, I can buy more pretty yarn, like trying to find blue with silver sparklies! I have a problem. I know.