I live in a kind of not-big-on-the-industry state (::coughcough::Vermont::cough::). There's a local yarn store half an hour away, but I don't drive and there's no public transportation there. Generally, unless I want to order it online, my local options are Wal-mart, K-mart, Big Lots, Michael's, and Jo-Ann's. Lately I've been scouring the last two in hopes of finding Lion Brand's new sock yarn, Sock-ease, but no luck.
Until today.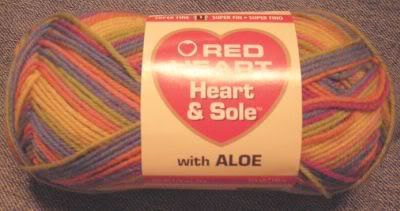 Okay, it's not Sock-ease! It's Red Heart's
Heart & Sole
. I haven't seen anything claiming to be sock yarn in any of these stores, so when I came across some today in Michael's, my jaw dropped. I walked right past it at first, because there was so little of it there. There were only 3 skeins of the particular color I got, so I feel bad for whoever else sees that yarn and wants to make a pair. I thought about buying the third, but $5 for 50 grams of yarn (while a good sock yarn price) gave me enough pause for my boyfriend to point me in the direction of the checkout line and out I went.
Then I had to go back to Jo-Ann's and get US size 1 and 2 DPNs. I have size 3 and size 5 already, but I want to be sure to make gauge here. If a yarn can look pretty and all I have to do is get a certain stitch count per inch, I'm all for that.
What about that other sock you were knitting, you ask? Shhh. Shhh. It's alright. I'll just keep the yarns apart and they won't fight.
(Don't tell the other sock I'm frogging it. It won't understand.)